2013
The Royal college of Art
Short term project/Solo project
Plastic is a substance the earth cannot digest. This edible bowl is made of several natural ingredients to address this issue. The bowl is shaped and solidified through strong pressing process, so that it would not be broken nor melt easily. Even though the edible bowl is not a perfect alternative, it provides intellectual curiosity to those seeking environmentally friendly materials.
2019
Solo Project
Showing interest in how physical objects has intangible interaction with human
while they don't loose their tangible functionality.
While the hub functions through a connection with various objects, the device itself lacks independent physical properties and functions. I designed the product to have a familiar tray-like shape that could be placed in a user's living room like a piece of furniture. In addition, users can analogously extend its functions in various ways including home security system or smart screen by switching 'coins'. Interestingly, a coin can function independently as a wearable device with a band attached. Finally, we considered the user's space utilization by integrating large smart devices such as wireless phone charging station and smart lighting.
The 360 rotating pillar is an add-on product that enables users attach coins with varying functions, such as security camera, touch-on display, and lighting.
Switch as a charging station
Switch also works as a wireless charging tray for diverse devices including coins and mobiles.
Using this carefully designed app, users have remotely access to Switch even when they are outside. Installing and managing additional coins to the device is not a hassle but is a joyful experience with this app. For example, using the touch controller from the app, users can control the direction that security camera views to every direction. The X-axis controller is for horizontal rotation of the pillar while the Y-axis controller is for vertical rotation of the camera itself.
Coins can be easily switched depending on what function users want to use at the moment. With the magnet inside,the coin easily attaches to wearable set as well as to the home assistant tray.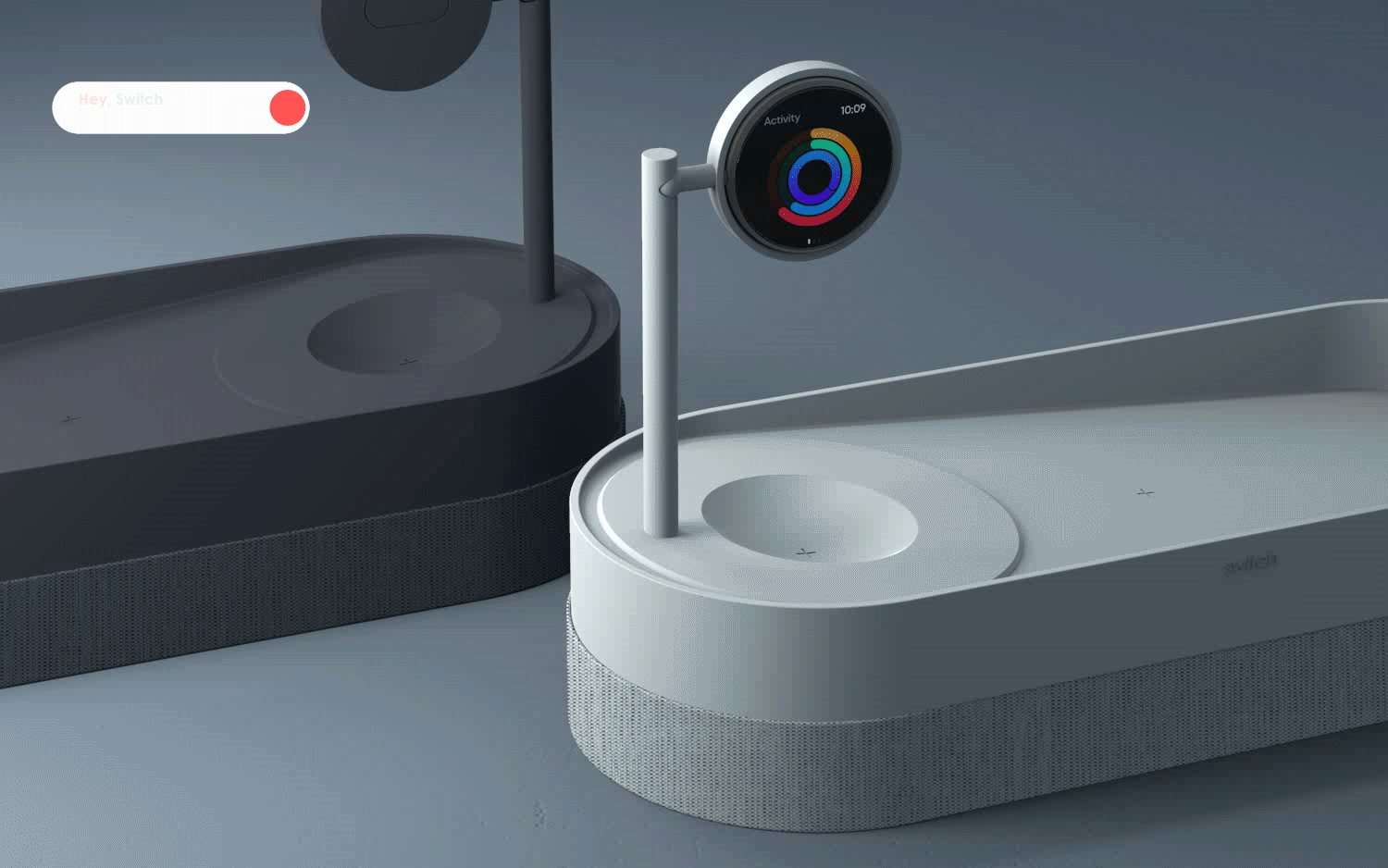 People face difficult decision to go for a smart speaker or a smart display. Switch can do both. By adding a display coin to a set, users can enjoy visual confirmation from Switch while it also functions as a smart watch if you wear it on your wrist.
Coins can also function independently as a wearable device. Users will enjoy wearing coins that fits their purpose. For example, the security camera coin can help visually impaired person with the google look out app installed. The display coin can be used as smart watch and the lighting coin can serve as a nice portable flash light.